Spinosaurus (meaning "spine lizard"[1]) is a spinosaurid theropod dinosaur that lived in Cretaceous Africa. It has become well known due to its size and recognizable shape. It lived near lakes and rivers.
Description
Edit
Several features make Spinosaurus one of the most recognizable dinosaurs in the modern world.
Spinosaurus has always been one of the longest dinosaurs. Early estimates put its length at around 15 meters (49 feet)[2] and 4 tonnes[3], but later estimates have ranged from 12 to 18 meters and from 7 to nearly 21 tonnes.[4]
The most distinctive feature of the aptly-named Spinosaurus is its spines. These neural spines were part of the vertebrae and were somewhat similar to the spines on Dimetrodon (which was not a dinosaur) and Ouranosaurus (which was a contemporary of Spinosaurus[5]). These spines probably supported a large sail (see Sail function, below). Some believe, however, that they in fact supported a large hump.[6]
Like other spinosaurids, Spinosaurus had an elongated snout filled with straight, conical teeth.[7] Like the size of the animal itself, the size of its skull is debated. Comparing it with the skull of its close relative Irritator, Dal Sasso and colleagues gave the length of the Spinosaurus skull at 1.75 meters (5.7 feet).[7] However, since the shapes of spinosaurid skulls can vary and not many are found complete to start with, this length might not be correct.[4]
Classification
Edit
Spinosaurus gives its name to the family Spinosauridae. It is also part of the family Spinosaurinae, which also includes Irritator and Oxalaia from Brazil. They are distinguished from other spinosaurid subfamilies by possessing straight, unserrated teeth.[8]
In 1910, a paleontological expedition led by Ernst Stromer arrived in Egypt. Stromer was intent on finding early mammals in the desert; namely, primates and hominids. Every single site they dug consistently revealed amazing reptile fossils, but no mammals. In 1912, Stromer was back in Germany, disappointed to have found no mammals, but his colleague Richard Markgraf discovered a partial skeleton of a meat-eating dinosaur. Stromer received the bones and in 1915 named them
Spinosaurus aegypticus
.
[9]
[10]
[11]
Additional remains believed to be of Spinosaurus were uncovered in 1934 and described by Stromer. However, it is believed today that these are in fact a different dinosaur, perhaps Carcharodontosaurus.[12][13] The original Spinosaurus specimens were actually destroyed in 1944 during the middle of World War II, in a British bombing raid on Munich, where the fossils were stored.[14] However, new material has been recovered since then. There is currently one accepted species, along with a second, S. maroccanus, although its status as a proper species is currently uncertain.[15]
Paleoecology
Edit
The North African environment in which Spinosaurus lived was similar to modern mangrove forests.[16] Other dinosaurs that lived in that time and place include titanosaurid sauropods, primitive hadrosaurs, and a wide variety of other large theropods.[17]
Paleobiology
Edit
Sail function
Edit
What the sail (or hump) on the back of Spinosaurus was for is not known with certainty, although there have been many theories. It may have served a thermoregulatory function, warming up the dinosaur's body in the early morning for extra energy.[18] The sail also could have been used for display, or possibly a variety of different functions.
Spinosaurus clearly ate fish, its conical teeth well suited to grabbing the slippery prey. the evidence of this is that they have been found with fish material in their stomachs.[19] but Greg Paul has stated that Spinosaurus was probably opportunistic, preferring fish but not hesitating to take land prey such as other dinosaurs.
In 2010, an isotope analysis of Spinosaurus teeth showed the oxygen isotope ratios present indicate the animal may have had a semiaquatic lifestyle, supporting the possibility that it had a diet of mainly fish.[20]
Although Spinosaurus has usually been depicted as bipedal, it has been suggested since the 1970s that it was at least partially bipedal. Both its robust arms and weight of the sail support this theory[21], although the idea that spinosaurids were entirely quadrupedal no longer exists. Even though theropods could not pronate their hands[22], quadrupedal locomotion would still be possible, as shown by Jurassic theropod tracks.[23]
In popular culture
Edit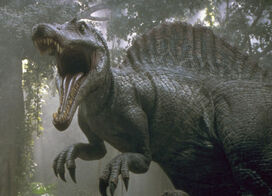 One of the most famous appearances of
Spinosaurus
was in the 2001 film
Jurassic Park III
. In the film, a
Spinosaurus
fights a
Tyrannosaurus
and kills the creature by snapping its neck, replacing it as the main dinosaur.
[24]
Reconstructions of
Spinosaurus
based on this appearance have since proliferated in a wide variety of media, including television series, books, and games.
Spinosaurus had been depicted in many 20th century dinosaur books, although due to the lack of fossil material it usually had a head reminiscent of that of a tyrannosaur. It was sometimes even restored as being quadrupedal.[25] This was based on a skeletal reconstruction created in the 1950s.[26] It has also featured on African postage stamps.[27]
in planet dinosaur, a bbc documentary, spinosaurus is shown to eat fish, such as onchipristis. it, however, eats both fish and meat. it often had rivalry with Concavenator.
many papo and shleich toys were made of it.
References
Edit
Community content is available under
CC-BY-SA
unless otherwise noted.