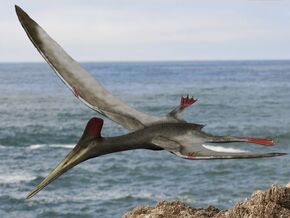 Pterodactylus
was a
pterosaur
from
Jurassic
Europe. It was the first pterosaur to be identified and described. It is usually mistaken for a
Pteranodon
Description
Edit
Pterodactylus is known from a number of specimens both complete and incomplete. It was a fairly small pterosaur, with an estimated wingspan of 1.5 meters at maturity.[1] The long skulls of Pterodactylus contain conical teeth, and have a small hooked beak at the end of the jaws.[2] Like related pterosaurs, it had a small crest on the back of its head that became more developed as the animal got older.[3] Pterodactylus also had a throat pouch that extended from the lower jaw to the upper part of the neck.[4]
The wings of Pterodactylus were long, and were accompanied by a uropatagium and propatagium in addition to the standard wing membrane.
Classification
Edit
The name Pterodactyli was used to classify Pterodactylus and similar pterosaurs during the 1800s, which was later amended as the family Pterodactylidae in 1838. Pterodactylidae is the most commonly used name for the family, although it has been suggested by recent studies that it might be an unnatural grouping.[5]
Numerous species of Pterodactylus have been described over the years, due to the fact that it was used as a "wastebasket taxon" to name any form of pterosaur. Currently, only the type species Pterodactylus antiquus is seen as valid, although more than 20 different species have been named and subsequently discarded.[6]
The first specimen of Pterodactylus was described by the Italian Cosimo Alessandro Collini in 1784 from the Solnhofen limestone in Bavaria, Germany. The specimen was likely donated to Collini by a Pappenheim count around 1780.[7] Collini speculated that the animal was a sea creature, as he thought that the deep ocean was more likely to contain unknown species of animals.[8] In later years, many other scientists adopted his theory of aquatic pterosaurs.[9]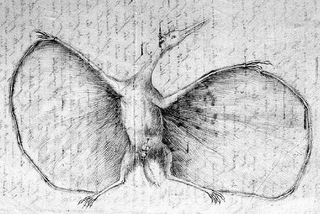 The German scientist Johann Hermann contacted the French anatomist Georges Cuvier about the fossil, believing that it had been captured by Napoleon's army and sent to France. Hermann, who did not think the animal was aquatic, sent Cuvier a letter which contained the first life restoration of a pterosaur, which depicted
Pterodactylus
as a flying mammal rather like a bat. Cuvier agreed with the reconstruction and in 1800 published a very short description of the animal.
[10]
However, he believed it was a reptile instead of a mammal.
Despite Hermann's assumptions, the fossil had not been taken by the French at all. Instead, in 1802 it had been brought to Munich, where Johann Paul Carl von Moll had obtained it. Cuvier asked von Moll to study the fossil, but it could not be found. In 1809 Cuvier published a longer description of the animal and named it Petro-Dactyle.[11] This was later discovered to be a typographical error, and Cuvier corrected it to Ptéro-Dactyle.[12]
The specimen was not actually missing, but was being studied by Samuel Thomas von Sömmerring. He described the fossil in 1812, giving it the name of Ornithocephalus antiquus.[13] von Sömmerring described it as being a form rather like both a mammal and a bird, but Cuvier disagreed, and published another description of the animal the same year.[14]
However, since Cuvier described the animal first, his genus name takes precedence. Applying the modern rules of zoological nomenclature, the valid name became Ptéro-Dactyle antiquus. In addition, the name Ornithocephalus already belongs to a genus of modern orchid, and no two organisms can possess the same scientific name.[15] The genus name was Latinized to Pterodactylus in 1815 by Constantine Samuel Rafinesque, the name we use today. Unaware of this, Cuvier himself Latinized the name and gave it the new species of Pterodactylus longirostris, but Rafinesque's name takes precedence.[16]
In 1817, a second specimen of Pterodactylus was discovered in the same Bavarian quarry. The fossil, now known to be a juvenile of P. antiquus, was described by von Sömmerring as Ornithocephalus brevirostris. He provided a resoration of the remains which, though inaccurate, was the first published skeletal reconstruction of any pterosaur.[17] von Sömmerring firmly believed that these animals were mammalian, and that they were furred and warm-blooded. Although Pterodactylus and its kin were confirmed to be reptilian, von Sömmerring's physiological assumptions would remain influential throughout the coming years, especially during the "Dinosaur Renaissance" of the 1970s.
Paleobiology
Edit
Pterodactylus specimens are found in a wide variety of sizes. The smallest individuals (whose skulls measure from 15 to 45 millimeters in length) were likely less than a year old and had only just begun to fly.[18]
Daily activity patterns
Edit
By comapring the scleral rings of Pterodactylus to modern birds and reptiles, it has been determined that it may have been a diurnal creature, an example of niche partitioning with contemporary pterosaurs that are believed to have been nocturnal (such as Rhamphorhynchus).[19]
References
Edit