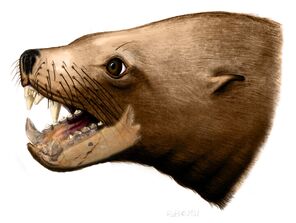 Pelagiarctos is a genus of walrus that lived in the Miocene Epoch of California.
Fossils of Pelagiarctos are rare and grossly incomplete, but skull material indicates that it measured approximately 2.5 to 3 meters long and weighed about 350 kilograms.[1] Its cheek teeth resemble those of several modern terrestrial carnivores, which indicates that it probably had a large bite force.
Originally, Pelagiarctos was described as a seal, but it is now believed to be a type of walrus.
Pelagiarctos was described in 1988 by Lawrence Barnes from the Sharktooth Hill Bonebed in Kern County, California.[2] The genus was reevaluated in 2013 by Robert Boessenecker and Morgan Churchill.[3]
At first, Pelagiarctos was imagined as a "killer walrus", a carnivore feeding on large aquatic animals and even other pinnipeds. However, recent analysis indicates that it actually fed on smaller animals like fish, with only the occasional larger meal.[4]
Only a handful of fossils of Pelagiarctos have ever been found, and only in one place. It is possible that the walrus may have migrated, explaining its rarity.[5]
Community content is available under
CC-BY-SA
unless otherwise noted.