| | |
| --- | --- |
| | This article is a featured article. This means it is believed to be one of the best articles on the wiki, and was featured on the main page to show this. |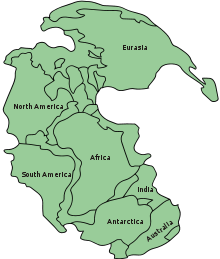 Pangaea
was a supercontinent that existed in the
Paleozoic
and
Mesozoic
eras. All the continents were once combined into this one area,
[1]
and allowed animals like the
dinosaurs
to spread across the planet. The name was first proposed by Alfred Wegener in 1927.
[2]
Geography
Edit
When Pangaea existed, all the continents were joined. The ocean that surrounded this supercontinent was called Panthalassa.
Formation
Edit
Several supercontinents had formed and split in Earth's history before, and it was those fragments that made up Pangaea. The collision that the continental plates created formed the largest mountain ranges in the history of the Phanerozoic.[3]
Evidence of existence
Edit
Single fossil species have been found on several continents, such as the leaves of Glossopteris. When all the land was part of one continent, trees could spread easily.[4]
More evidence can also be found in the shape and geology of modern continents. The east coast of South America and the west coast of Africa fit into each other, rather like pieces in a puzzle.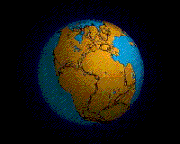 During the Early
Jurassic
Period, Pangaea rifted into two smaller supercontinents,
Laurasia
and
Gondwana
. This gradually created the Atlantic Ocean.
[5]
References
Edit
Community content is available under
CC-BY-SA
unless otherwise noted.