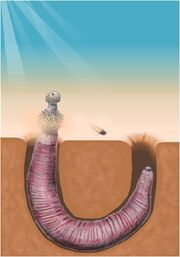 Ottoia (named after Otto Pass, British Columbia)[1] is a stem-group priapulid worm of the Middle Cambrian period found in North America and Europe.[2]
Description
[
]
Ottoia was similar to modern-day priapulid worms in morphology. For example, the spiny proboscis distinctive of this phylum is present at the front end of the animal.[3] Specimens measure an average of 8 centimeters long, although they can range anywhere from 3 to 15 centimeters.[4]
Classification
[
]
Although Ottoia was a type of priapulid worm, it has been given its own taxonomic family, Ottoiidae.[5]
Distribution
[
]
Ottoia fossils are prevalent at the Burgess Shale fossil site of British Columbia, with over a thousand specimens known.[6][7] In addition, it is also known from deposits of the Wheeler Shale in Utah, as well as sites in Spain[8] and Nevada.[9]
Paleobiology
[
]
Ottoia was a burrower, and an active predator. It is believed to have constructed U-shaped burrows in the sea substrate and waited for a potential prey item to approach, whereupon it would grab it with its flexible proboscis.[10] Fossil evidence, including gut contents of Ottoia, support this theory, and it is even possible to tell what genera it fed on.[11]
References
[
]