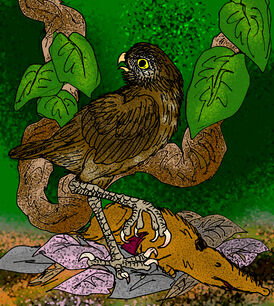 Ornimegalonyx (also known as the Cuban Giant Owl or Cuban Cursorial Owl) is a genus of giant owl from Pleistocene Cuba. It is the largest owl to have ever existed.
Description
[
]
The height of Ornimegalonyx is estimated to have been about 1.1 meters, and its weight over 9 kilograms.[1] Its legs and feet were very large and well-built, and likely adapted for running.
History
[
]
Ornimegalonyx was originally described in 1954 by Oscar Arredondo, who identified it as a type of terror bird due to its size. In 1961, Pierce Brodkorb found the fossils to be those of a giant owl. Remains of Ornimegalonyx are common in Cuba, and four species in total have been described.[2]
Paleobiology
[
]
Diet
[
]
Ornimegalonyx was a predator, and probably hunted large rodents and ground sloths.[1] Comparisons with modern owls indicate that it could likely kill animals that were much larger than itself.[3]
References
[
]
↑ 1.0 1.1

Arredondo, Oscar (1976) translated Olson, Storrs L. "The Great Predatory Birds of the Pleistocene of Cuba" pp. 169-187 in "Smithsonian Contributions to Paleobiology number 27; Collected Papers in Avian Paleontology Honoring the 90th Birthday of Alexander Wetmore"

↑

Arredondo, Oscar (1982). Los Strigiformes fósiles del pleistoceno cubano. Boletín de la Sociedad Venezolana de Ciencias Naturales 140, 33-55.

↑ Andrews, Peter (1990) "Owls, Caves, and Fossils: Predation, Preservation, and Accumulation of Small Mammal Bones in Caves, with an Analysis of the Pleistocene Cave Faunas from Westbury-sub-Mendip, Somerset, UK" University of Chicago Press. 231pages. ISBN 0-226-02037-1, ISBN 978-0-226-02037-2