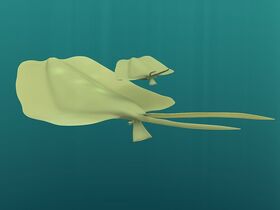 Nectocaris
is a genus of uncertain affinity from the
Cambrian
 Period of Canada, China, and Australia.
Description
Edit
Nectocaris has a flattened body with fleshy fins running along each side. The head possessed two stalked eyes, a pair of tentacles, and a funnel that opened up on the underside of the body.[1]
Classification
Edit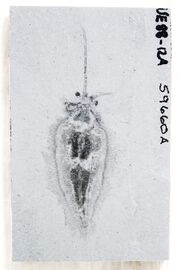 The classification and taxonomy of
Nectocaris
is uncertain, and various identities for the genus have been put forth since its discovery, including a cephalopod or a
coeloid
.
[2]
There is one species,
N. pteryx
.
Although Charles Doolittle Walcott had first photographed specimens of Nectocaris in the 1910s, it was not until 1976 that it was described by Simon Conway Morris.[3] The Italian paleontologist Alberto Simonetta interpreted the animal as a primitive chordate, and reconstructed it with a body shape somewhat similar to that of Pikaia.[4] In 2010, Martin Smith and Jean-Bernard Caron reexamined the fossil and found it to be more like that of a primitive cephalopod. This would move the origin of cephalopods back about 20 million years to the Cambrian explosion.[5]
References
Edit