Jurassic World: Dominion Dominates Fandom Wikis - The Loop
Play Sound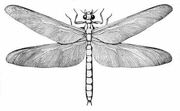 Meganeura ("large-nerved") was a large relative of the dragonflies that lived in the Carboniferous.
Description
[
]
Meganeura was not actually a dragonfly as commonly stated. Instead, it should technically be called a "griffenfly", as part of the order Meganisoptera. Meganeura had a wingspan of up to 75 centimeters (newer estimates indicate 1 meter), one of the largest known flying insect species after its relative Meganeuropsis.[1]
How insects achieved this size during the Carboniferous is a subject of fierce debate. The first and most popular theory proposed that, when Meganeura and its relatives lived, the oxygen level was much higher than today.[2] However, large insects also occurred in the Late Permian, when the oxygen level was lower than in previous years.[3]
It has also been suggested the lack of aerial predators may have encouraged insects to evolve large sizes, in order to fill this niche.[4]
Classification
[
]
Meganeura was part of the order Meganisoptera, which became completely extinct during the Permian period.[5]
Discovery
[
]
Fossils of Meganeura were first discovered in a French coal mine. In 1885, Charles Brongniart described the species. Its name refers to the network of veins on its wings.[6]
Paleobiology
[
]
It is assumed that Meganeura was a predator, like modern dragonflies, and evidence seems to suggest it prayed on small lizards and could even have been cannibalistic.
References
[
]