| | |
| --- | --- |
| | This article is a featured article. This means it is believed to be one of the best articles on the wiki, and was featured on the main page to show this. |
Lepidodendron

Reconstruction of some Lepidodendrons
Vital statistics
Scientific Name
Lepidodendron
Height
30-50 metres
Period
Carboniferous
Range
Worldwide
Lepidodendron ("scale tree") was a tree-like plant related to modern lycopsids that existed in the Carboniferous period.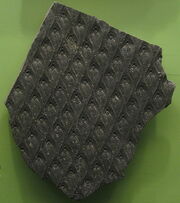 Lepidodendron was a large plant, reaching heights in excess of 30 meters. The trunks often measured a meter or more in diameter, and rarely branched.[1] Lepidodendron bark resembled scales, giving the plant its name, and it was often mistaken for petrified reptile skin in the 19th century.[2] All of the foliage was concentrated at the top of the plant, and the leaves were long and thin.
Instead of being a true club moss as often cited, Lepidodendron was actually more closely related to today's quillworts. About 150 species exist today.[3]
Lepidodendron did not produce true seeds; rather, they reproduced by means of spores. Plants grew quickly, and on average they lived for 10 to 15 years.[4]
Community content is available under
CC-BY-SA
unless otherwise noted.