Jurassic World: Dominion Dominates Fandom Wikis - The Loop
Play Sound
Labidosaurus was an anapsid reptile from the Permian of Texas.
Description
[
]
Labidosaurus closely resembled a heavily built lizard with a large head. It was about 75 centimeters long from the tip of the head to the tip of the tail.
Classification
[
]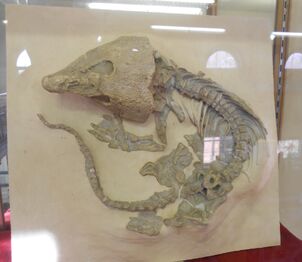 Described by Edward Drinker Cope in 1895[1], Labidosaurus hamatus is the only species in the genus. It is part of the captorhinid family of reptiles, and was one of the largest examples of the family.
Paleobiology
[
]
Diet
[
]
The shape of Labidosaurus's teeth suggest that it was likely omnivorous. Its several rows of conical teeth would have been well-adapted to crush the shells of molluscs.[2]
Evidence of infection
[
]
In 2011, a lower jaw of Labidosaurus was described that showed evidence of an infection called osteomyelitis.[3] This condition affects bone and is caused by microorganisms such as bacteria. In this specimen, the pulp cavity of a broken tooth was exposed to infectious bacteria, and later developed the infection. This is the earliest known case of infection in a land-dwelling vertebrate. Osteomyelitis has also been discovered in the bones of the dinosaur Allosaurus.[4]
References
[
]