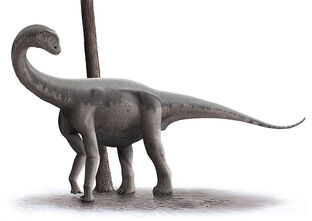 Jobaria is a primitive sauropod from the Jurassic period, its fossils are found in Africa.
Description
[
]
Jobaria reached lengths of 21 meters from head to tail, and weighed 22 tonnes.[1] Its neck is relatively short in comparison to other sauropods.
Classification
[
]
The exact classification of Jobaria is uncertain. It has been interpreted as both a basal macronarian and primitive eusauropod.[2]
Discovery
[
]
Jobaria was first found in 1997 in Niger's Tiourarén Formation, and the exceptionally complete skeleton was described in 1999 by Paul Sereno and colleagues.[3] It was named after a creature of local legend. Originally, the Tiourarén Formation was placed in Cretaceous age, but later research suggested that it actually dated to the mid-Jurassic .[4]
References
[
]