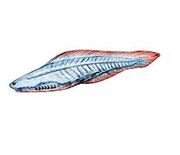 Haikouichthys
was a
Cambrian
chordate from China. It is often identified as one of the earliest fishes.
Description
Edit
Haikouichthys measured about 2.5 centimeters long, and most probably had a notochord. It also had fins that resemble those of modern lampreys or hagfish.[1]
Classification
Edit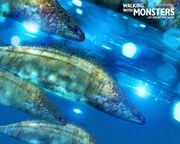 Cladistic analysis has revealed that
Haikouichthys
is most likely a basal craniate, although this classification is not without controversy.
[2]
Discovery
Edit
Haikouichthys was first found in the Qiongzhusi Formation of China,[3] as part of the Chengjiang fauna.[4] It was described as Haikouichthys ercaicunensis in 1999.
In popular culture
Edit
Haikouichthys appeared in the 2003 BBC documentary Walking with Monsters, where it was depicted as the ancestor of all known vertebrates.
References
Edit