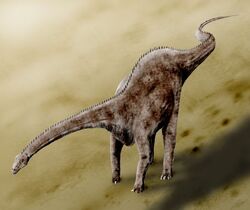 Diplodocus
("double beam"
[1]
) was a sauropod dinosaur that lived in the Late
Jurassic
Period of North America. It was named for its double-beamed chevron bones present on the ventral area of its tail. It is one of the best known sauropod dinosaurs.
Description
Edit
Diplodocus is the longest dinosaur known from a complete skeleton[2], measuring over 35 meters long[3] (of which the neck represents 6 meters[4]) and 10 to 16 tonnes.[5][6][7][8]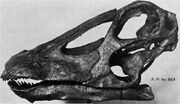 Diplodocus
had an extremely long tail, around 21 meters long, like many diplodocids it was related to. There has been much speculation about its purpose, the most popular theories being as a counterbalance to the enormous neck, using it for defense
[9]
, or using it to create noise.
[10]
Diplodocus had a tiny skull compared to its length. It had peg-shaped teeth that were present only in the front of the mouth[11], used for raking in plant matter. Its braincase was also small.
Diplodocus may have had thin spines lining its back, and many modern reconstructions show this feature.[12]
Classification
Edit
Diplodocus gives its name to its family of Diplodocidae. Other genera in the family include Barosaurus and Apatosaurus.[13]
Discovery
Edit
Diplodocus was first discovered in Colorado in 1877. It was described the next year by Othniel Charles Marsh as Diplodocus longus.[14] Since then, three other species have been found in the Morrison Formation of western America, namely D. carnegii, the most well known species.
In 1991, a species was named as Seismosaurus halli, reputed to be one of the longest dinosaurs ever. Because the species name halli was not the correct gender for the name, there were attempts to rename it S. hallorum.[15] It was eventually renamed Diplodocus hallorum in 2006, and may even be the same as D. longus.[16]
Paleobiology
Edit
Diplodocus is one of the best-studied dinosaurs, due to its popularity and wealth of skeletal material available.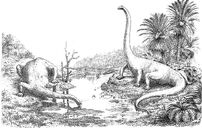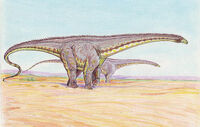 A famous drawing of
Diplodocus
by Oliver Hay depicts it with sprawled limbs rather like a lizard's.
[17]
However, W.J. Holland argued that for the dinosaur to maintain such a position it would have to walk over a trench all of its life.
[18]
The theory has since been discarded after footprints were found in the 1930s, and
Diplodocus
is now believed to have walked upright like other dinosaurs with its limbs held under its body.
Diplodocids were once thought to hold their necks high up in the air like Brachiosaurus and its kin. However, computer models suggest that a Diplodocus's neck was naturally held in a horizontal position.[19] Further studies suggested all tetrapods naturally held their neck at the maximum possible vertical extension (in the absence of any structures hindering or preventing this), which contradicts the computer models entirely.[20] The debate remains unsolved.
It was suggested in 2006 that the long necks of sauropods including Diplodocus were used for sexual selection, as opposed to the traditional theory of feeding benefits.[21] The suggestion has since been refuted.[22]
It was originally believed that Diplodocus (and some other sauropods) was aquatic, due to its sheer size and position of the nasal openings.[23] However, it has since been shown that the water pressure would crush the chest of the animal[24], and the nostrils are now believed to have been located at the end of the snout like most other dinosaurs.[25] Diplodocus is now believed to have been terrestrial, in habitats with adequate vegetation.
Diplodocids had peg-shaped teeth which were likely used to strip leaves off of trees instead of biting them off.[26] They may have also been able to rear up on their hind legs to reach high branches.[27]
In 2010, a juvenile Diplodocus was found to have teeth located lining the whole jaw, instead of only at the front, highlighting a difference between adults and young that was not previously seen in sauropods.[28]
In popular culture
Edit
Becoming one of the more famous dinosaurs after Andrew Carnegie supplied specimen casts to museums around the world, Diplodocus has appeared in several movies and television programs including Walking with Dinosaurs.
References
Edit