The Sandman Will Keep You Awake - The Loop
Play Sound
The Cretaceous was the third and final geological period of the Mesozoic Era. It lasted from 145.5 to 66 million years ago.[1]
Geography
[
]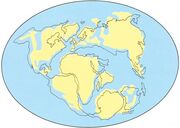 Laurasia and Gondwana had split up by the beginning of the Cretaceous Period, and near the end of the time period, the continents were positioned in very similar places as they are today. A notable difference was that most of North America was covered in a vast, inland sea.[2]
Climate
[
]
The Cretaceous was a time of great climate change. Although it was still relatively warm by today's standards, through most of this period temperatures were going down, and the world was becoming gradually cooler. However, near the end of the Cretaceous, the global cooling stopped, for some unknown reason, and the world began to warm up again, possibly due to increased volcanic activity.[3]
Plants
[
]
Angiosperms (the flowering plants) first appeared in the Cretaceous, and competed with ferns and conifers.[4] Plants had grown tougher than previous periods, as this was necessary to compete with the sauropods that used to eat them. As a result, new dinosaurs evolved to cope with the new plants.
Animals
[
]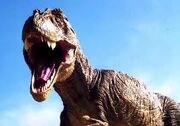 The Cretaceous was the final period of the dinosaurs. It began with animals like Deinonychus and Tenontosaurus, but at the end of the Cretaceous, they had gone extinct and had been replaced by dinosaurs such as Parasaurolophus, Velociraptor, Triceratops, Ankylosaurus and Tyrannosaurus. These dinosaurs were common in the Northern Hemisphere, but in the south there were abelisaurids and titanosaurs. Small mammals like Didelphodon also existed in this time, and the sky was dominated by giant pterosaurs like Pteranodon and Quetzalcoatlus. In the sea, creatures like Mosasaurus and Elasmosaurus were apex predators.
Extinction
[
]
Main article: Cretaceous-Paleogene extinction event
This period ended with the Cretaceous-Paleogene extinction event, in which dinosaurs, pterosaurs and marine reptiles went extinct, yet birds, crocodiles and mammals survived.[5]
References
[
]