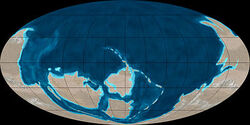 The Cambrian is the first geological period of the Paleozoic. It lasted from 541 to 485.4 million years ago.
Notable events
[
]
Geography
[
]
It is still debated how exactly the continents were positioned in the Cambrian. Sea levels were high (as a result of the melting ice from Snowball Earth), and land was concentrated in the Southern Hemisphere.[1]
Climate
[
]
All we know is that it was rather warm.
Plants
[
]
Plants had not evolved in the Cambrian, but it is possible that fungus and algae existed.
Animals
[
]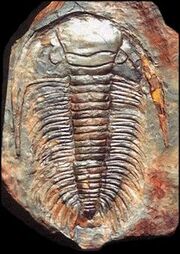 The Cambrian was the time of the Cambrian Explosion, when animals evolved very rapidly from jelly-like blobs into hard-shelled, some predatory creatures. Well-preserved examples of these can be found in the Burgess Shale of western Canada. This was the golden age of the trilobites; after the Cambrian they slowly declined as bigger, better predators evolved.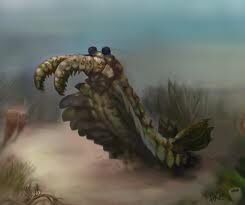 References
[
]
↑

Mckerrow, W. S.; Scotese, C. R.; Brasier, M. D. (1992). "Early Cambrian continental reconstructions". Journal of the Geological Society 149 (4): 599–593. doi:10.1144/gsjgs.149.4.0599.